Head out before daylight to Holland Ohio m.p. 297 This is just west of Toledo exit 8B off 475. Follow Airport hwy. west to Holloway rd. right on Holloway cross the tracks and it turns into Front street. you can park in the lot right there. the 297 signals are right in front of you. channels you want are 160.800 main road channel for Toledo West and 161.07 for the yard and Toledo east.This should give you a heads up for what is coming. To the west at m.p. 300 is a detector.
First up for the day are some sunrise photos.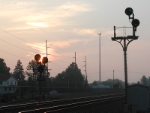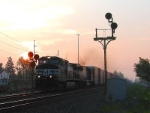 22Z E.B. intermodel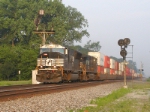 Followed shortly after by 22K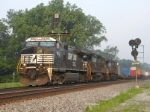 Well I head west about 3 miles to the little burg of Chrissy this is m.p. 300 location of the detector.
NS 10R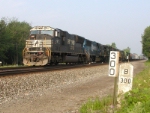 I head further west on airport hwy also known as 2 to Swanton at Swanton take a right on 64 and follow to the tracks on the south side of the tracks is a park you can sit in or on the north side where I went is a parking area behind some busineses.When I arrive there are two men marking ties for replacement or something.
NS 16N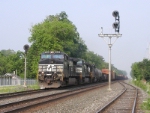 The track men report smoking brakes so he comes to a stop east of town to inspect.
This next shot is for you signal lovers out there. This West bound train has them lit as he comes by.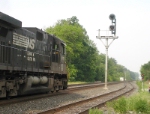 Notice the smaller signals to the right of the picture.
11M westbound with 25G stopped at the 307 signal.
NS 25G gets the green going 1 to 2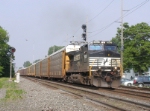 Followed minutes later by NS 680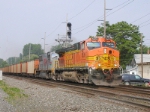 16N is now moving So this eastbound mail train comes by on track 1
I head further west to Delta Ohio at M.P. 213 I get NS 14J
Well its time to head home as its about noon. As I am heading north into Michigan I can hear a eastbound train talking on the old Wabash line so it on to North Morenci to see if I can catch him.
Well that does it for the day. Hope you all enjoy.
We will see what next week brings as the Nascar race is in town And I know I wont be heading South.
Scooter B