Wow that sucked got halfway through my trip report and lost power and all info. so here goes again.
Head down to Butler Friday morning for a day of fanning.
Heard lots of scanner chatter as we get into Indiana.
As we get into Waterloo we get a westbound coal train NS 879 UP power.
We have already missed NS 39E. He radios his second unit has shut down he wants to stop to restart it Toledo West tells him to keep going as he is leading a westbound parade and it is signal track from mp 360 –367 due to a broken rail.
NS 252 stops in Butler to wait for traffic on the Chicago Line. I get a couple pics at first sun.
NS 9822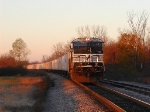 As we are getting these shot we miss 11M, 21V
17J is coming and will make the turn to Fort Wayne so we position ourselves to get this shot
NS 8851
We miss 23N as we get that shot.
18A is our next train
NS 9238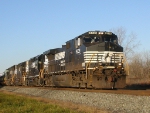 No pics of 23Z or 21A
NS 242 suprises us so we chase him east of Butler and get ahead of him for this shot at State line
NS 9361
B38 had died on hours a Waterloo finally heads east to Bryan Oh.
NS 5580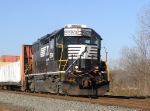 NS 82A NS coal train makes 12 trains in two hours.
UP 5617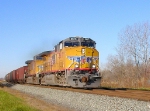 Blow the shot of 16N
New CP train with NS trackage rights 36T slows through town to transfer to the Wabash line.
CP 8564
NS 206 blows through town as 36T takes the transfer.
NS 9877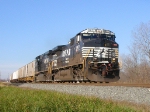 NS 20K is 10 min behind 206
NS 9769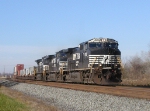 Followed 5 min later by 24K
NS 9817
No pic of 24Z
27V goes south we chase him down to SDI where he stops
NS 9047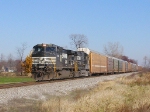 Well it sounds like the Chicago line is quieting down so we check out the SDI plant and are surprised by this switcher.
SDI 87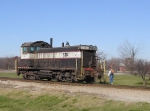 20 trains in 3 hours.
We head back to Butler and get a 11/2 hour nap before the afternoon parade starts.
Noon brings the afternoon show.
12:00 NS 20E starts the afternoon show
NS 9650
Followed by NS 24M
NS 9525
38E
NS 3049
Blow the shot of NS 565 eastbound loaded coal NORX hoppers
No pic of 20A
East of Butler is 11K
NS 9900
We have trains coming but they all come to a stop for 45 minutes.
And the trains start backing up on the Wabash Line / Huntington District.
16E Chicago line train.
10R Chicago Line go by
34N comes up the Wabash line and heads east on the Chicago line.
Then the parade starts again.
197 is first up
BNSF 1084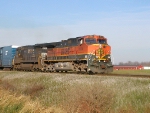 171
NS 8753
I55 an extra 255 road railer
NS 3543
L96 that has been sitting in Butler siding for 2 hours gets the go
Then 11E comes off the Chicago Line
NS 2614
21T also comes off the Chicago line
NS 9906
Thats 8 trains in an hour for the Wabash / Huntington line.
We head to Corunna to finish the day.
31M at crazy star bridge.
NS 7005
I0N
26N.
NS 9479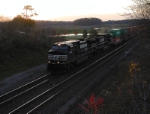 Not a bad day saw or heard 40+ trains in less than 10 hours.
Lots of horses running but it seems to be that way for the NS, you will see a ton of NS dash9's or all kinds of foriegn power.
A special thanks to all who served and gave their lives for this country.