Well, the Blue Water was running ON TIME tonight, and I had nothing else to do, so I grabbed the Camera and Tripod and went over to the Amtrak Station to nab a few pics.
Click on the thumbs for a Larger picture.
I was happily surprised to see an old friend on the train again, Amtrak P42 #32, which was the final Genisis unit on Amtrak's Roster to wear the classic Phase III Paint. She looks pretty good in her new paint, but I still miss the old Phase 3.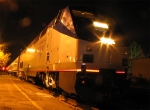 The train was about Five cars long IIRC.
For the first time in over a month, the train has a cabbage in the consist. F40 #90219 sits on the rear of the Train: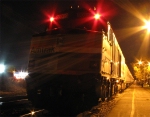 The train takes off for Durand, Flint, Lapeer, and Port Huron. Right when I took this, I heard someone call out my name. Some other railfans at the station told me the person who did this was the conductor! I wonder how he knew me?
That's all. I hope you enjoyed.