Took a quick trip to Stryker Ohio this morning. Stryker is located in northwestern Ohio approx. MP 335 on the NS Chicago line. Freq. 160.800. You can park on the south side of the tracks in town across from the old depot now the police station. To the west is the Stryker Farmers exchange good for back drops in the morning. These are the two locations I used today. Further to the west about 1/4 mile is an empty parking lot you can park in on the north side of the tracks. A 1/4 mile west of this is a bridge over the Tiffin river, you can park in a park across the road and walk to the road bridge and get shots.
Now for today I leave home about 7:50 and arrive in Stryker at 8:45. First train is NS 35N at 8:45 its a westbound so I head to the river to get the shot set up and my battery light is flashing on the camera I get the pic but it turns out blurry.
9:05 it NS 16N.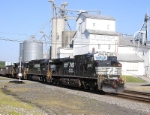 9:27 NS 27V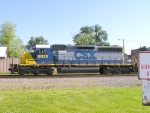 10:03 NS 11M
10:08 NS 10R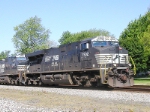 Head 1/2 a block west to get the next two shots.
10:25 NS 23Z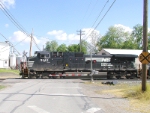 10:28 NS 34N bad shot cut off plow on loco. I will try again on the next one.
10:37 NS 24M
That one is much better.
11:27 NS 21T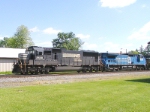 11:40 NS 921 Ballast train. NS 9836 primer no pic.
11:44 NS 20E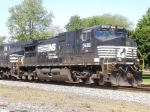 12:00 Eastbound mixed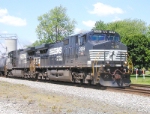 Thats all for today again hope all enjoy.
Scooterb